Main content starts here, tab to start navigating
Menus
Slide 1 of 5
Slide 2 of 5
Slide 3 of 5
Slide 4 of 5
Slide 5 of 5
THE BEST FOOD IN THE HEART OF THE HILL!
MONDAY – THURSDAY 11:30am-12:00am (kitchen until 10:00pm) FRIDAY– SATURDAY 11:30am-1:00am (kitchen until 11:30pm)
SUNDAY 10:30am-12:00am (kitchen until 10:00pm)
BRUNCH SERVED - SATURDAY : 11:30am-2:30pm SUNDAY : 10:30am-2:30pm
Starters
French Onion Soup

Garlic croutons, Swiss & mozzarella cheese

$8

Yellowfin Tuna Tartar*

Sesame soy sauce, cucumber, scallions, avocado, seaweed salad, wonton crisps

$15

Truffle Fries or Tater Tots

Parmesan & white truffle oil

$9

Sweet Potato Fries

$8

Buffalo Cauliflower Florets

Lightly Fried Cauliflower tossed in buffalo sauce, blue cheese crumble, blue cheese dressing

$10

Chicken Tenders or Wings

Buffalo, BBQ, or Sweet Chili

$13

Pork Dumplings

Kung Pao sauce

$11

Classic HG Nachos

Tortilla chips, shredded mozzarella cheese, pico de gallo, guacamole, sour cream, jalapeños

$14

Add chicken or pulled pork $5

High Society Sliders*

Aged cheddar cheese, bacon, thousand island aioli

$14

Buffalo Chicken Stuffed Pretzel

Buffalo chicken, mozzarella cheese, blue cheese

$14

Baked Pretzel Sticks

Guinness Mustard, Cheese Sauce

$10

Fried Pickles

Thousand Island Dipping Sauce

$8
Pizzas
Prosciutto Pizza

White pizza, goat cheese, fig jam, arugula, balsamic drizzle

$16

Wild Mushroom Pizza

White pizza, caramelized onions, roasted mushrooms, goat cheese, arugula, truffle oil

$15

Hawaiian Pizza

Tomato Sauce, Shredded Mozzarella, Ham, Pineapple

$14

Margherita Pizza

Fresh mozzarella, tomato sauce, basil

$14

Add pepperoni $2
Entrees
Beer Battered Fish & Chips*

Tartar sauce, sweet slaw, fries

$19

Steak Frites*

Beef steak sirloin, chimichurri, truffle fries, garlic broccolini

$23

Grilled Atlantic Salmon

Crispy Smashed Herb Potatoes, Garlic Spinach, Lemon Buerre Blanc Sauce

$23

Truffle Mac & Cheese

Baked pasta, four cheeses, English peas, Ritz Cracker crumbs, truffle oil

$16

Add chicken $5

Add Pulled Pork $5
Salads
Cobb Salad

Grilled chicken, bacon, blue cheese, egg, avocado, tomatoes, cucumbers, zinfandel vinaigrette

$16

Grilled Avocado Salad

Grilled chicken, avocado, mixed greens, cherry peppers, goat cheese, roasted corn, tomatoes, ranch dressing

$16

Southwestern Chopped Kale Salad

Kale, Grilled Chicken, Roasted Corn, Avocado, Tomatoes, Carrots, Shaved Cabot Cheddar Cheese, Buttermilk Honey Chipotle Dressing

$15

Classic Caesar

Romaine, parmesan, garlic herb croutons, creamy caesar dressing

$10

Add chicken $5

Add steak or salmon $10

Beet & Goat Cheese Salad

Roasted Beets, Almonds, Spring Mix, Strawberries, Quinoa, Citrus Berry Vinaigrette

$12

add chicken $5

add salmon $10
Sandwiches & Burgers
Choice of Fries or Tots | Sweet Fries +1 | Add Bacon or Avocado +2 |
Grilled Chicken Sandwich

Smoked bacon, fresh mozzarella, mixed greens, tomato, herb aioli

$15

BBQ Pulled Pork

Chipotle honey BBQ, sweet slaw

$14

Turkey BLT

Honey mustard, toasted multigrain

$14

Steakhouse Burger*

Horseradish aioli, awesome sauce, mushrooms, caramelized onions, Swiss

$16

Beacon Hill Cheeseburger*

Lettuce, tomato, onion

$15

Harvard Gardens Burger *

Aged Cheddar, Crispy Onions, Bacon Aioli

$15

Veggie Burger

Quinoa & black bean burger, pesto aioli, tomato, guacamole, arugula

$14

Corned Beef Reuben*

Sauerkraut, Swiss cheese, thousand island aioli, marble rye

$15

Grilled Cheese

Swiss cheese, aged cheddar cheese, vine-ripe tomatoes, apple smoked bacon, basil pesto

$14

Fish Tacos

Fried local haddock, spicy slaw, salsa fresca, chipotle crema

$15

Buffalo Chicken Wrap

Crispy Buffalo Chicken, Blue Cheese, Lettuce, Tomato, Bacon, Ranch Dressing

$15

Colossal Fish Sandwich

Beer Battered Fried Haddock, Sweet Slaw, tarter Sauce, Pickles

$15
Dessert
Crème Brulee

$8

Brownie Sundae

$8
Sides
Side Mixed Greens Salad

$6

French Fries / Tater Tots

$6

Broccolini

$6
Beer on Tap
Harpoon IPA, Boston, MA

Whalers Rise Draft Beer..Whalers Brewing Company, Kingston, R.I.

Lunch IPA, Maine Beer Company, Freeport, ME

Guinness, Dublin, IR

Sam Adams Seasonal, Boston, MA

Green State Lager, Zero Gravity, Burlington, VT

Allagash White, Portland, ME

Downeast Cider, Boston, MA

Truly Wild Berry Spiked Seltzer

Switchback Ale, Burlington, VT

ShipYard PumpkinHead Ale..Maine

ASK US ABOUT OUR ROTATING DRAFT LINES
The Usuals
Bud Light

Budweiser

Miller Lite

Miller High Life

Michelob Ultra

Kaliber N/A

Heineken

Coors Light

Corona

White Claw Hard Seltzer
Cocktails
Spicy Margarita

Ghost tequila, fresh lime, salt. Choice of blood orange or blackberry

HG Doli

Pineapple infused vodka

Pandemic Punch

Coconut rum, spiked seltzer, orange juice, pineapple juice, grenadine

Titos Collins

Titos Handmade Vodka, Prickly Pear, Lemon Juice, Soda Water

Beacon Hill 75

Short Path Summer Gin, Elderflower Liqueur, Lemon Juice, Prosecco

Raspberry Lemon Ricky

Stoli Raz, Lemoncello, Lemon Juice, Sprite

House Made Hard Seltzer

Black Infusions Gold Apricot Vodka, Soda Water

Red Seasonal Sangria

Fruits and Juices Prepared with Traditional Spanish Wine

White Seasonal Sangria

White Peach Flavored Summer Sangria

Bully-Var-D-Yay!

Bulleit Bourbon, Bully Boy Amaro, Chocolate Bitters

HG Espresso Martini

Vanilla Vodka, Coffee Liqueur, Irish Cream, Hazelnut Liqueur, Coffee Concentrate
Red
Columbia, Cabernet Sauvignon, WA

$11

$42

Edna Valley, Pinot Noir, CA

$11

$42

Pacifico Sur Merlot

$9

$34

Don Miguel Gascón, Malbec, Arg

$9

$34

Prophecy Cabernet

$9

$34

Bocelli Toscana, Sangiovese, Itl

$12

$45

Prophecy Pinot Noir

$9

$32

Locations Red Blend

$12

$45
Sparkling & Rose
Fleur De Mer, Rose, FR

$12

$44

LA Marca, Prosecco, gl, btl

$11

$43

Nicolas Feuillatte Brut, FR

$80

Veuve Clicquot Brut, FR

$125

Louis Roederer Brut Cristal, FR

$400
The Good Stuff
Boomsauce IPA, Lord Hobo, Woburn, MA

Sip of Sunshine IPA, Lawson's Finest, Waitsfield, VT

Boston Lager, Sam Adams, Boston, MA

Grey Lady Witbier, Cisco Brewers, Nantucket, MA

Glutenberg GF Blonde Ale, Montreal, CA

Gluten Free Beer

Citizen Cider Rotating Selection, Burlington, VT

Little Sip, Lawson's Finest, Waitsfield, VT
White
Da Vinci, Pinot Grigio, Itl

$9

$34

Dr. Loosen Riesling

$9

$34

Prophecy Chardonnay

$10

$39

J Chardonnay

$13

$49

Whitehaven, Sauvignon Blanc, Nz

$14

$49

Chateau Souverain, Sauvignon Blanc

$10

$38
After Dinner Treats
HG Espresso Martini

Peanut Butter Jelly Shot

Pistachio Shot
Bourbon/Whiskey
Angel's Envy Rye/Bourbon

Baker's 7 Yr

Basil Hayden's

Blanton's

Bookers Beam

Bulleit Bourbon

Bulleit Rye

Bully Boy

Bushmills Original/Black Bush

Crown Royal

Canadian Club

Eagle Rare

Elijah Craig

Four Roses

High West Double Rye/Bourbon

Jack Daniel's Single Barrel

Jameson

Jim Beam

Johnnie Walker Red/Black

Knob Creek

Maker's Mark

Michter's Rye

Noah's Mill

Rowan's Creek

South Boston Whiskey

Tullamore Dew

Willett Pot Still Reserve

Woodford Reserve
Single Malt Scotch
Aberlour 12 Yr

Ardbeg 10 Yr

Aultmore 12 Yr

Balvenie 12 Yr

Balvenie 17 Yr

Caol ILA 12 Yr

Chivas Regal

Cragganmore 12 Yr

Dalwhinnie 15 Yr

Dewars White

Dewars 12 Yr

Glenfiddich 12 Yr

Glenfiddich 14 Yr

Glenkinchie 12 Yr

Glenmorangie 10 Yr

Glenlivet 12 Yr

Glenlivet 14 Yr

Lagavulin 16 Yr

Laphroaig 10 Yr

Macallan 12 Yr

Macallan 18 Yr

Oban 14 Yr

Talisker 10 Yr
Kids Selections
All include vanilla ice cream with chocolate sauce
Chicken Tenders

Served with french fries & ketchup

$8

Mini Burgers

Sliders topped with cheddar cheese, french fries & Ketchup

$8

Grilled Cheese Sandwich

Cheddar cheese on sourdough, french fries & Ketchup

$8

Classic Mac N Cheese

Pasta backed with 5 cheese

$8

Kids Cheese Pizza

$8
Friday - Saturday 10:00PM - 11:30PM
Starters
Truffle Parmesan Fries or Tater Tots

Parmesan, White Truffle Oil, Chives

$9

*Classic Sliders

Special Sauce, Cheddar Cheese, Bacon

$13

Pretzel Sticks

Cheese Sauce, Guinness Mustard

$10

Buffalo Cauliflower

Lightly Fried Cauliflower Florets, Buffalo Sauce, Blue Cheese Dipping sauce

$10

Chicken Wings or Tenders

Choice of: Buffalo, BBQ, Sweet Chili, Honey Mustard

$12

Pork Dumplings

Kung Pao Sauce, Scallions

$11
Burgers & Sandwiches
Add Bacon or Avocado $1
*Harvard Gardens Burger

Aged Cheddar Cheese, Crispy Onions, Bacon Aioli

$15

*Beacon Hill Cheeseburger

Cheddar Cheese, Lettuce, Tomato, Onion

$14

Grilled Chicken Sandwich

Smoked Bacon, Arugula, Tomato, Mozzarella, Pesto Aioli

$14
Pizza
Margherita Pizza

Tomato Sauce, Fresh Mozzarella Cheese, Basil Add Pepperoni $2 Cheese Pizza also available

$12
*Before placing your order, please inform your server if a person in your party has a food allergy.
Starters
French onion soup

swiss & mozzarella cheese

$8

Yellowfin Tuna Tartar

Sesame soy sauce, cucumber, scallions, avocado, seaweed salad

$14

Buffalo Cauliflower florets

Baked Cauliflower Tossed in buffalo sauce, Blue Cheese dipping sauce

$10
Salads
ADD CHICKEN +5 ADD STEAK* OR SALMON* +10
Cobb Salad

grilled chicken, bacon, blue cheese, egg, avocado, tomatoes, cucumbers, zinfandel vinaigrette

$15

Grilled Avocado Salad

grilled chicken, avocado, mixed greens, cherry peppers, goat cheese, roasted corn, tomatoes, ranch dressing

$15

Southwestern Chopped Kale Salad

kale, grilled chicken, roasted corn, avocado, tomatoes, carrots, shaved cabot cheddar cheese, buttermilk honey chipotle dressing

$15

Beet & Goat Cheese Salad

roasted beets, almonds, spring mix, strawberries, quinoa, citrus berry vinaigrette

$12

Caesar Salad

romaine, parmesan cheese, creamy caesar dressing

$10
Sides
Side Mixed Greens Salad

$6

Garlic Green Beans

$6

Broccolini

$6

Herb Roasted Potatoes

$6
Burgers & Sandwiches
ALL SERVED WITH A GF BUN (ADD +2) AND AN OPTION OF A GF SIDE ADD BACON OR AVOCADO +2
Grilled Chicken Sandwich

smoked bacon, fresh mozzarella, mixed greens, tomato, herb aioli

$15

Gluten free bun $2

Turkey BLT

honey mustard

$14

Gluten free bun $2

BBQ Pulled Pork

chipotle honey BBQ, sweet slaw

$14

gluten free bun $2

Steakhouse Burger

horseradish aioli, awesome sauce, mushrooms, caramelized onions, swiss cheese

$16

Gluten free bun $2

Beacon Hill Cheeseburger

lettuce, tomato, onion

$14

Gluten free bun $2

Veggie Burger

quinoa & black bean burger, herb aioli, tomato, guacamole, arugula

$14

Gluten free bun $2
Entrees
Steak Frites*

coulote steak, chimichurri, herb roasted potatoes, garlic broccolini

$22

Grilled Atlantic Salmon*

grilled salmon in a lemon buerre blanc sauce, herb roasted potatoes, garlic green beans

$20
Desserts
Vanilla Bean Crème Brulee

$8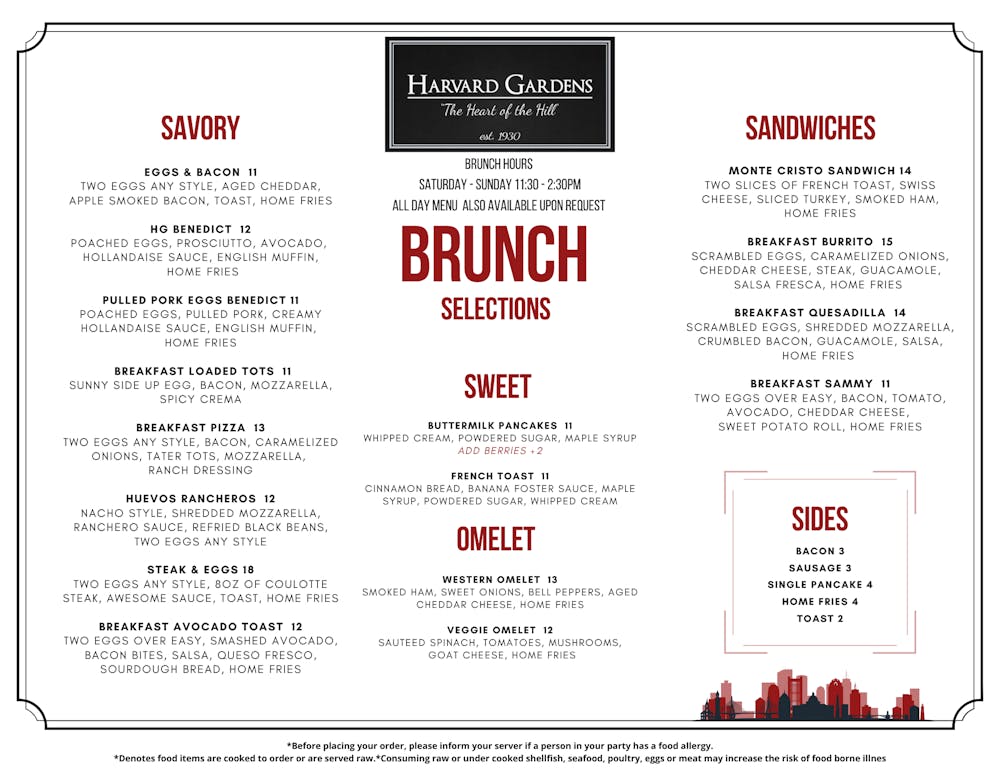 Beer on Tap
Harpoon IPA, Boston, MA

617 Title Town IPA, Lord Hobo, Woburn, MA

Santilli IPA, Night Shift Brewery, Everett, MA

Whirlpool, Night Shift Brewery, Everett, MA

Lunch IPA, Maine Beer Company, Freeport, ME

Sam Adams Seasonal, Boston, MA

Sluice Juice, IPA, Bent Water, Lynn MA

Green State Lager, Zero Gravity, Burlington, VT

Allagash White, Portland, ME

Switchback Ale, Burlington, VT

Downeast Cider, Boston, MA

Truly Wild Berry Spiked Seltzer

Guinness, Dublin, IR

Ask us about our rotating seasonal selections
The Good Stuff
Boomsauce IPA, Lord Hobo, Woburn, MA

Sip of Sunshine IPA, Lawson's Finest, Wakefield, VT

Little Sip, IPA

Lawsons Finest, Wakefield MA

Boston Lager, Sam Adams, Boston, MA

Grey Lady Witbier, Cisco Brewers, Nantucket, MA

Local Rotating Sour Beer Selection

Glutenberg GF Rotating Selection, Montreal, CA

Citizen Cider Rotating Selection, Burlington, VT

Bud Light Seltzers

Mango
The Usuals
Bud Light

Budweiser

Miller Lite

Miller High Life

Michelob Ultra

Kaliber N/A

Heineken

Coors Light

Corona
Hangover Helpers
Bloody Mary

New Amsterdam vodka, house made bloody mix

Painkiller

Goslings Dark rum, pineapple & orange juice, creme de coconut, nutmeg

HG Doli

Pinneapple infused vodka

Cold Brew

Jameson Cold brew, Vanilla Syrup, Cold Brew, whipped Cream

Red Seasonal Sangria

Fresh fruit and juice prepared with traditional Spanish wine

HG Bellini

peach Schnaps, Peach Nectar, Prosecco

Brunch Punch

Cazadores, orange juice, Cranberry Juice, Pineapple Juice, orange Liqueur, Lemonade

Bucket of Bubbles

Bottle of bubbles, with your choice of juices

Spring Spritz

Aperol, Sparkling White wine, Grapefruit Juice, soda water
Brunch Selections
Eggs & Bacon

Two eggs any style, aged cheddar, apple smoked bacon, toast, home fries

$11

Pulled Pork Eggs Benedict

Poached eggs, pulled pork, creamy hollandaise sauce, English muffin, home fries

$11

HG Benedict

Poached eggs, prosciutto, avocado, hollandaise sauce, English muffin, home fries

$12

Breakfast Loaded Tots

Sunny side up egg, bacon, mozzarella, spicy crema

$11

Buttermilk Pancakes

Whipped cream, powdered sugar, maple syrup

$10

French Toast

Cinnamon bread, banana foster sauce, maple syrup, powdered sugar, whipped cream

$10

Western Omelet

Smoked ham, sweet onions, bell peppers, aged cheddar cheese, home fries

$12

Veggie Omelet

Sauteed spinach, tomatoes, mushrooms, peppers, goat cheese, home fries

$12

Breakfast Sammy

Two eggs over easy, bacon, tomato, avocado, cheddar cheese, sweet potato roll, home fries

$11

Breakfast Avocado Toast

Two eggs over easy, smashed avocado, bacon bites, salsa, queso fresco, sourdough bread, home fries

$11

Breakfast Pizza

Two eggs any style, crumbles bacon, caramelized onions, tater tots, mozzarella, ranch dressing

$13

Nacho Huevos Rancheros

Nacho Style, Shredded Mozzarella, Ranchero Sauce, Refried Black Beans, two eggs any style

$12

Steak & Eggs

Two Eggs any style, 8oz of coulotte steak, Awesome sauce, toast, home fries

$18

Monte Cristo Sandwich

Two Slices of French Toast, Swiss Cheese, Sliced Turkey, Smoked Ham, Home Fries

$14

Breakfast Burrito

Scrambled eggs, caramelized onions, cheddar cheese, steak, Guacamole, salsa fresca, home fries

$15

Breakfast Quesadilla

scrambled eggs, shredded mozzarella, crumbled bacon, Guacamole, salsa, Home Fries

$14