Celebrate National Sandwich Day With Harvard Gardens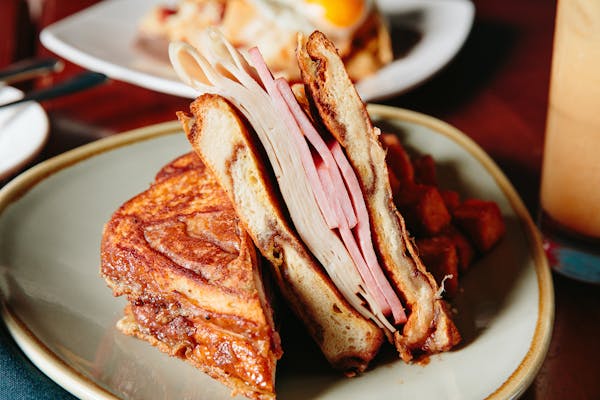 While the history of sandwiches is still up for debate, we do know that the sandwich as we know it today was popularized in England by John Montagu, the 4th Earl of Sandwich in 1762. Sandwiches have certainly come a long way since then, and today are one of the most beloved lunch foods in America! In fact, they're so popular that they even have their own day dedicated to them! November 3rd is recognized as National Sandwich Day! So, what exactly does that mean and how can you celebrate it? With your favorite sandwich, of course! Looking for a tasty sandwich to indulge in this National Sandwich Day? Check out the list of some of our fan favorites below.
Turkey BLT
The Turkey BLT is a classic that you can't go wrong with. Topped with mustard and served on toasted multigrain, it's sure to please the hardest of sandwich critics!
BBQ Pulled Pork
Who doesn't love a pulled pork sandwich? At Harvard Gardens, it is served with chipotle honey BBQ and sweet slaw. We may not be in the South, but it sure tastes like it with this sandwich!
Harvard Gardens Burger
Does a burger count as a sandwich? Well, even if not, we still had to include our infamous Harvard Gardens Burger on this list! In addition to a juicy beef patty, we top our burger with aged cheddar cheese, crispy onions, and delectable bacon aioli. Check out our recent blog to learn some tips to order your burger to be cooked to perfection at any restaurant!
Grilled Chicken Sandwich
Our grilled chicken sandwich is both health-conscious and delicious! Served with smoked bacon, fresh mozzarella, mixed green, tomato, and herb aioli, it's certainly a favorite here at Harvard Gardens!
Veggie Burger
Looking for a vegan or vegetarian option? We know that it can be like finding a needle in a haystack when it comes to vegetarian options, but have no fear! Our veggie burger is vegan and vegetarian approved! This quinoa and black bean patty is topped with pesto aioli, tomato, guacamole, and arugula. Yum!
Grilled Cheese
For even our pickiest of eaters, the grilled cheese is a sandwich that anyone will love! At Harvard Gardens, we take a unique approach to this childhood favorite, adding vine rip tomatoes, apple smoked bacon, and basil pesto with swiss and aged cheddar cheese. This gooey, warm, sandwich is the perfect comfort food on a cold fall day!
Try a Sandwich at Harvard Gardens
We're sure your mouth is probably watering by now, so come by and join us on National Sandwich day! Book a reservation ahead of time, or just stop by. Also available for online ordering.